Snowmobile socks are one of the most overlooked pieces of snowmobile clothing. 
To keep your feet warm, you should have a good pair of snowmobile socks. 
These socks will protect your cold feet from frigid temperatures and elements such as wind and snow, chafing from boots, and blisters from moving too quickly on the ice.
Buying snowmobile socks is not rocket science, but there are a few things to consider while purchasing a good, dependable pair for yourself. 
Some of these factors may seem relatively trivial, but they can make all the difference in the snow.
So check out the below article, which has some of the best snowmobile socks in 2023.
Best Snowmobile Socks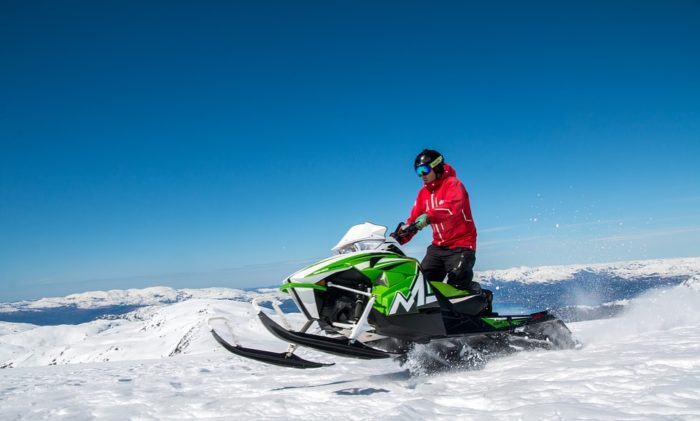 Klim Mammoth Sock
The Klim Mammoth sock is one of the most trusted socks for snowmobilers. 
A boot-style sock that is easy to put on and off with a proven ability to keep your toes warm, no wonder it is well-loved by snowmobilers.
The 43% Merino wool, 40% acrylic, 13% Lycra, and 4% polyamide blend provide a high thermal retention value to help hold heat in. 
This translates into superior warmth and comfort on the coldest days of the year. 
In addition, the Merino wool has natural thermoregulating properties, ensuring that your feet won't get too hot or too cold.
Furthermore, these snowmobile socks are built with 100% Terry construction for added warmth and padded comfort under your boots. 
The extra thick knitting delivers warmth and protection but remains breathable to wick away sweat and moisture while keeping your feet warm and dry all day.
These socks have a patterned bend and regular knit at the front mid-ankle to help prevent bunching, which often occurs when utilizing full gaiters like the one on these socks.
In addition, an ankle support stretch band is incorporated to help keep the sock in place so it won't bunch or slip down. 
No slipping or bunching means your feet will stay warm and comfortable throughout the ride.
It also has reinforced toes, heels, and soles made of Nylon for ultimate durability in these high-pressure and wears areas. 
This reinforcement ensures that the socks don't wear out fast, stay durable, and last long.
The Klim Mammoth Socks are available in small to large sizes and come in only one color i.e. black. 
509 Tactical Sock
If you're looking for the perfect blend of breathability and warmth, I'd recommend the 509 Tactical socks.
Tested and approved by the 509 pro team, it will keep your feet comfortable on long snowmobile rides.
These 509 Tactical Socks feature a construction sturdy enough to withstand harsh terrain but also incredibly lightweight for all-day wear.
These socks are made with a blend of Nylon and Lycra for long-lasting performance. 
This construction makes the socks breathable and durable to withstand abrasion and flexes of your foot.
However, these socks are not the warmest pair, so avoid using them in freezing weather.
Besides that, it provides structure and support for all-day snowmobiling while retaining its shape even after many uses and washes. 
Plus, it also dries fast, so even if you get your sock wet from the snow, it will dry up in no time.
With Zonal terry cushioning combined with added support around the arch and Achilles, these socks are guaranteed to keep your feet warm and snug all day long. 
Not only does this cushioning adds to the durability of the socks, but it is also lightweight and low-bulk.
The Tactical Sock has a full-calf length that stays up inside your boots and prevents bunching; this plenty of height also keeps your leg warm and covered.
To top it off, a silicone finish is employed for easy wear and care, as well as to prolong its softness and shape. 
You can get the Tactical sock in Small to Extra-large sizes.
Danish Endurance Merino Wool Hiking Socks
These Danish Endurance Merino Wool Hiking Socks offer comfort and warmth in cold weather with their Merino wool material and ergonomic foot-hugging design. 
These socks will continue to perform after multiple seasons in harsh weather, making them a must-have for every snowmobiler.
They are made of high-quality and breathable Merino wool fibers for optimal sweat transport, keeping your feet fresh and dry all day. 
Plus, the insulation offered by them is something you just can't overlook.
Apart from this, the cushioning at the bottom makes it a perfect choice for snowmobilers, as you won't have to remove your boots due to hot spots. 
This targeted cushioning and padding placed on the arch and heel reduces the risk of getting blisters and aid in shock-absorbance. 
It also works well with your boots by providing additional comfort and support. 
This way, no matter how rough your ride is, these socks have got you fully covered.
To ensure that your feet don't get sweaty and hot while you're riding through the snow, the ventilation mesh lanes are strategically placed, resulting in an increased breathability rating. 
It wicks away sweat, won't retain moisture, and promotes odor control for overall freshness and comfort.
You can get the Danish Endurance Merino Wool Hiking Sock in plenty of colors. 
The sizing chart is also provided to help you find the perfect fit for your feet.
It is available in XS for kids up to XL for men.
However, since they are made of a blend of Merino wool and other fibers, you need to be cautious and take special care while cleaning and drying them. 
Otherwise, you can ruin them permanently and render them useless.
Warrior Alpaca Second to None Thick Alpaca Boot Socks
From dynamic designs to cozy alpaca wool, the Warrior Alpaca Socks are definitely second to none. 
The extra soft alpaca wool keeps you warm even in the coldest weather plus its lush soft feel is something you'll absolutely love.
The Warrior Alpaca Socks are made of high-quality Alpaca, Acrylic, and Nylon blends for a soft feel and warm wear. 
The unique combination of these fibers creates a sock that provides warmth while also keeping the foot dry from sweat. 
This also increases the socks' durability as they are made to last twice as long as other wool or acrylic socks.
Made with 48% Alpaca wool, these socks contain naturally occurring anti-microbial properties that effectively reduce odor build-up to keep your feet fresh. 
It also has moisture-wicking properties to keep your feet dry. 
And since natural alpaca wool is hypoallergenic and free from sheep's wool, these socks won't cause any irritation at all.
Moreover, it is designed with a terry-lined foot for maximum warmth and cushions against pressure points that cause blisters. 
They fit over the calf to provide complete coverage as well as protection from the different elements outside.
Heel-to-toe comfort is also enhanced with every step in the Warrior Alpaca Sock. 
They feature a reinforced heel that absorbs impact, keeping you comfortable while you ride. 
Plus, a soft elastic band and a smooth, seamless toe are further added for continued comfort.
The Second to None Thick Alpaca Boot Socks are available in Medium to XL and comes in a nice gray color.
Snow Deer Heated Socks
If you're looking for heated socks, go for Snow Deer Heated Socks. 
With the push of a button, the Snow Deer Heated Sock instantly heats to help keep feet warm and snug throughout the day.
The Snow Deer Heated Sock is powered via lithium-ion rechargeable 7.4V 2200mAh batteries, which are included in the package.
It provides hours of warmth, with three settings for ease of use, and has a light indicator wherein the Red LED color is in high setting, the White LED color means medium setting, and Blue LED color indicates low setting. 
These heated socks will last up to around 6.5 hours on the lowest setting, 3-3.5 hours on the medium setting, and around 2 hours on the highest.
If you're planning on using these for the entire day, make sure to buy extra batteries that are sold separately since they have limited run time.
These heated socks feature a revolutionary heating system that keeps your toes toasty and comfortable, no matter the condition. 
The heating elements cover your entire toes, making it perfect for various outdoor activities like snowmobiling, snowboarding, etc. 
Additionally, it utilizes upgraded infrared heating elements, stimulating excellent blood circulation while helping people with chronically cold feet and arthritis.
The socks are made of 75% polyester, 15% Elastane, and 10% nylon material with an ergonomically knit pattern design and padding for maximum comfort and protection. 
It also features COOLMAX tri-blend construction that resists odors and wicks away moisture by pulling sweat away from the skin.
Snow Deer heated socks are available in Small to XL and go perfectly well with your snow boots and snowmobile shoes.
They also provided a sizing chart, so be sure to check it out for proper sizing.
What to Look for While Buying Snowmobile Socks
Material
As with any professional sport, snowmobile riding requires the right equipment.
Warm gear for winter activities like snowmobiling and ice fishing socks is an essential element, so it's best to choose a suitable material and properly wear them to ensure the perfect balance of warmth and ventilation while protecting your feet.
The right pair of snowmobile socks should keep you warm all day, so you don't have to stop in between every hour or so to warm your toes.
Wool is a best friend to snowmobilers since it doesn't get wet quickly and works well as a thermal insulator. 
There are also many varieties of wool and wool blends to choose from to accommodate your needs and preferences.
For instance, regular wool is one of the most common materials for snowmobile socks. 
Although socks made of traditional wool can be thicker and bulkier, they do a great job at keeping your feet all warm and toasty.
They are also an affordable option for many.
Another downside is that traditional wool socks contain an irritating element called lanolin that causes itching and skin sensitivity.
If you want the warmth of regular wool but are sensitive to it, Merino wool or Alpaca wool are the best choices. 
They are an excellent choice for anyone who likes the warmth of wool but dislikes the itchiness and thickness that comes along with it.
Unlike regular wool, Merino wool and Alpaca wool are significantly thinner yet provide more insulation and the right amount of breathability. 
They are also much more skin-friendly and don't cause irritation. 
Basically, they have everything you love about regular wool plus more minus the downsides.
In any case if you don't like wool, go for socks made of synthetic fibers instead. 
These artificial fibers are specifically designed to provide insulation, breathability, and comfort in harsh weather conditions.
Size and Comfort
Your choice of snowmobile sock is an essential part of your overall comfort and affects the safety and performance of your snowmobile suit. 
And proper sizing is vital to achieving all of these.
A loose sock can slide off your leg when you're riding and having socks slip can be especially dangerous if you're doing something complicated like shifting gears and need to keep both hands on the handlebars. 
You also don't want a pair of bunching snowmobile socks making your ride uncomfortable and miserable.
Similarly, a sock that is too tight is just as annoying as one that is too loose. 
Plus, a tight sock will restrict blood flow to your feet which will cause them to get cold quickly.
However, some socks only come in one size and are not available in multiple sizes; this can be a problem if you have too large or too small shoe sizes. 
Also, it's best to stay away from one-size-fits-all socks if you have size extremities.
Instead, you can opt for brands that offer several size options.
Final Words
It doesn't matter if you have a sled or just enjoy snowmobiling; getting the right socks for snowmobiling is extremely important. 
While they might not seem like too big of a deal, you'll be surprised how quickly your feet can get cold and start to hurt if you don't wear warm socks. 
That being said, it's a no-brainer why you should take your own time to buy the warmest socks for snowmobiling.
For snowmobilers today, there are so many options available in the market that it can be a real chore to finally choose the correct one.
But I hope this article has helped you make a wise purchase and get you the best socks for snowmobiling yourself.
FAQ
Q-1 What are snowmobile socks?
Snowmobile socks are specially designed socks for use during snowmobiling activities. They are made with materials and features that keep feet warm, dry, and comfortable in cold weather conditions.
Q-2 What materials are snowmobile socks made of?
Snowmobile socks are typically made of a combination of synthetic materials, such as polyester, nylon, and spandex, that provide warmth, wick moisture, and offer a snug, comfortable fit. Some snowmobile socks also include features like extra cushioning, reinforced heel and toe, and anti-slip grip to improve performance and comfort.
Q-3 Why are snowmobile socks important for snowmobiling?
Snowmobile socks are important for snowmobiling because they help protect your feet from the cold, wet, and windy conditions you may encounter on the trails. Good snowmobile socks will keep your feet warm and dry, reduce the risk of blisters, and provide added comfort and support during long rides.
Q-4 What should I look for when buying snowmobile socks?
When buying snowmobile socks, look for features like warmth, moisture-wicking, and anti-slip properties. Consider the level of insulation you need based on the conditions you will be riding in, and the fit, as you want the socks to be snug but not too tight. Additionally, choose a durable pair of snowmobile socks that will hold up to the wear and tear of snowmobiling.