The creative sport of Snowbiking has been gaining quite a bit of attention from sports fans lately and not only that, this breathtaking sport has been growing quite rapidly as well. 
If you happen to be on a spree of looking for some durable and amazing snow bike boots, you've come to the right place! I've done the work so that you don't have to, let me present to you a list of the 5 best snow bike boots to wear this year! 
Best Snowbike Boots 
Klim Havoc GTX Snowbike Boots
Something absolutely amazing about this pair of snow bike boots that you'll love to know is that it is highly breathable, durably waterproof, and 100% windproof! You can already tell that this pair is pretty perfect for snow biking but I'll tell you more!
Those are just the basics obviously, you'll be surprised to know how good of a fit this pair is for snow bikers. It has the Boa closure system, which is a smart way to fasten shoes gives a snug fit and additionally, as we all know, protects our feet by making sure that the snow doesn't get in by any chance. So, when you snow bike your way through dreadful layers of snow, it'll make sure that your feet are protected from any sort of moisture. It provides an adequate amount of warmth for an extended period of time. Its Gore-Tex technology is bound to keep your feet dry. Its sole is specifically engineered for Powersports, making it a suitable choice for talented snow bikers like yourself.
Pros:
Boa closure system
Low profile toe for easy shifting
Achilles Flex Zone
Calf Flex Zone
Reinforced hypalon strap
Rigid polycarbonate lasting board.  
Gore-Tex technology
Cons:
Might be tight regarding the fit. 
Might be expensive.
It might not be available in a wide range of varieties.
Korkers Snowtrac & Icetrac Snow Boot 
The best feature of this pair is this pair's sole. We all know how essential traction is when it comes to picking snow boots. Snowboots are bound to be designed with deep treads and patterns so that one can have a perfect grip on icy surfaces. Now when it comes to riding a snow bike, the essentiality of traction is increased of course! It's a power sport after all. This pair has a rubber sole, and not just that, its waterproof leather, webbing and stitching keeps the foot bone dry so that you're not bothered by wetness from the snow. Its specialty lies in its versatile traction that includes two interchangeable soles for customized traction. It is designed to provide extra comfort and warmth for your feet, even during less active adventures like when you are ice fishing. Most importantly, it comes with the Boa system which undoubtedly makes this pair a suitable fit for you when you are riding a snow bike. 
Pros: 
Rubber sole
Versatile traction
100% waterproof
1200g of 3M Thinsulate insulation
Premium aerogel frost barrier footbed with Fahrenheit heat warmer compatibility
BOA m4 Fit system
 Cons:
 Might be less breathable.
Might not stay waterproof for longer periods of time.
Fly Racing Maverik Boot 
Not just snow biking, any sort of sport would require flexibility, right? That's exactly where Fly Racing Maverik Boot comes in handy as its articulated rear ankle provides subtle flexibility that is extremely essential for an easy break. It supports the rider's feet and keeps them safe and protected, and you will need that when you are rushing through rough environments. This boot has also got you covered when it comes to having excellent grip in order to have perfect control over the motorcycle. It can easily be considered one of the best and most suitable pairs of footwear for riding a snow bike. Adding to the already amazing features, it also features an elastic gaiter, adjustable quick lock buckles, and 3D molded plastic shin and shift protection. Its rubber outsole not only offers a good grip as mentioned but is also lightweight and durable, so that you're comfortable while enjoying the sport. 
Pros: 
Articulated rear ankle 
Protective riding gear 
Quality construction
Modern molded sole 
Designed and crafted for perfect performance
Cons:
Might not be waterproof.
It might not be available in a wide range of larger sizes.
SOREL Caribou Boot 
Snug, stylish, and comfy, this pair is made to keep your feet feeling cozy. Not just for snow biking, but even as daily wear this pair is absolutely perfect. Made with 100% leather and designed with a rubber sole, it will give you comfort and ease for a smooth performance. Its seam-sealed waterproof construction makes sure that your feet stay dry. Also, it's washable, which is perfect if you just love to keep your footwear neat and clean. The liner in these boots provides extra warmth and comfort making it one of the best boots for snow biking. Though choosing a perfect pair of snow bike boots can be time-consuming or perhaps even confusing, SOREL Caribou Boot makes your job easy by combining style and functionality all in one place. Making room for this pair of boots will not only enhance your wardrobe in a sense but will actually cater to your needs of finding a perfect pair of boots for snow biking. 
Pros:
100% leather
Imported 
Rubber sole 
Seam-sealed waterproof construction
Available in different colors
Cons: 
The sizing might be off. 
Might be slippery.
Might not be much tall.
Kamik Canuck Boot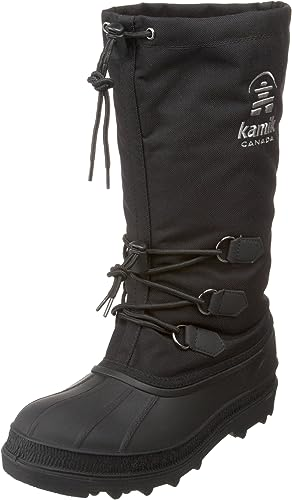 Super easy to take on and off, this pair of tall warm boots is surely perfect for you if you are required to function in heavy winters. Additionally, it's super easy to dry off. Made of 100% fabric and offering a rubber sole, it has slip-resistant tread, and we're all aware of how important grip is when it comes to snow biking. Perfect for icy surfaces and super snowy weather, it definitely presents itself as a good choice for riding a snow bike. It is waterproof and would keep your feet dry. Additionally, it features an adjustable snow collar with a bungee lace lock, keeping the fit of the shoe snug and entirely keeping out moisture and snow while helping you perform well. Its lightweight outsoles provide top-notch traction, making this pair absolutely perfect for you when it comes to snow biking. It also has an embroidered logo at the side of the shaft giving it a subtle touch of style and elegance. Being knee-high, it'll be a wise choice for you in dreadful winters.
Pros:
100% fabric 
Imported 
Rubber sole 
Removable Zylex liner 
Slip-resistant
Knee-high with adjustable bungee cords at the ankle
Cons:
The sizing might be off. 
Can be uncomfortable.
Boot sole has less rigidity. 
Conclusion
If you're a part of the rapidly growing community of snow biking, then finding the perfect pair of footwear must be one of your top priorities, and well, there you have it! A list of the best of the best to choose from, footwear that'll not only help you perform smoothly but also keep your feet protected and safe.