Cycling shoes help you ride longer, faster, and more comfortably; they are built to be lightweight but also tough enough to withstand the rigors of your rides.
Buying the right cycling shoes can be the difference between sweating through a miserable ride or feeling completely relaxed and comfortable as you ride along for many hours and miles.
Everyone loves to cycle, but not everyone wants to spend a fortune on a pair of cycling shoes.
To help you find the right shoes that fit your budget, here is a list of the best cycling shoes for under $100 that you can buy this 2023.
Best Cycling Shoes under $100 for 2023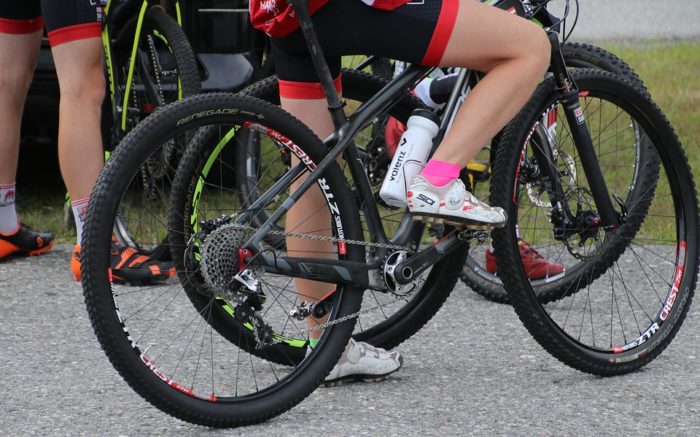 SHIMANO High Performing All-Rounder Cycling Shoe
The SHIMANO cycling shoe is the perfect entry-level shoe for any cyclist and ideal for anyone looking to upgrade their ride. It has many features at a very competitive price. 
In addition, this cycling shoe was made to be long-lasting and comfortable; it provides excellent power transfer, comfort, and pedaling efficiency with its SPD cleat system. 
It also reduces energy loss and fatigue, making all the difference in performance when you're riding to your limits.
This cleat system is a favorite among cyclists for its precise, solid connection to pedaling power.
A fiberglass soleplate moves the power of your stroke into the pedals efficiently and evenly. Stiff underfoot, the fit and feel of this shoe make it suitable for both casual and competitive riding.
Sporting upper features like the double strap closure system and lightweight synthetic leather, this cycling shoe offers a snug fit for excellent support and breathability without sacrificing comfort.
The lightweight synthetic upper delivers a custom fit and expert grip, making this versatile shoe both road and indoor cycling friendly.
This shoe is so well cut, you'll want to wear it the rest of the day after getting off your bike. In addition, it provides excellent heel and arch support for better comfort and walkability.
The SHIMANO High Performing All-Rounder cycling shoes feature a versatile 5-hole outsole that is compatible with both 2-hole and 3-hole cleats, as well as clip-in pedals.
The only problem with these shoes is that they are pretty narrow in the front, so your toes might constantly bump into the toe box.
Fizik Tempo R5 Powerstrap Cycling Shoe
The Fizik Tempo R5 Powerstrap Cycling Shoe is a high-performance all-around road cycling shoe.
This shoe is outfitted with a Microtex upper for a supple yet durable and robust construction resulting in a comfortable and consistent fit.
The BOA IP1-B dial can fit your foot without any overlap, so you can get as much or as little closure as you need.
An integrated Powerstrap also helps pull your foot snugly and wraps around the shoe, which makes springing into power much easier to do.
This foot-wrapping Velcro closure system also provides an excellent fit from mid-foot to the rear, ensuring a solid and secure fit.
Furthermore, it has a Tempo Overcurve with advanced construction and aggressive crash-protection features yet sport a comfortable design guaranteed to outlast the road, making this one of the best cycling shoes.
The instep and midfoot are made to satisfy rider needs with separate adjustments for a fully customized fit and compression and designed to eliminate hot spots and a medial wedge for extra power transfer while pedaling.
This cycling shoe features an R5 nylon composite outsole to maximize power transfer by minimizing foot flex, delivering a balance between comfort and pedaling efficiency.
It helps provide lateral stability under heavy pedaling, so your foot movement remains consistent and in contact with the pedal.
However, others pointed out that the soles lack support for serious athletes, also, it's a bit thin and lacks rigidity, so it's not ideal for high-performance cyclists.
Santic Road Cycling Shoes
The Santic Road Cycling Shoes is the perfect choice for cyclists who enjoy longer, more challenging rides.
It's lightweight, comfortable, and durable, allowing an optimum pedal transfer while riding your mountain bike, road bike, or hybrid.
These shoes are made with PU upper for maximum durability and ergonomic fit while adding comfort and security to all of your rides. 
With a solid design and construction that puts you in the ideal pedal-ready position, you'll never have to worry about pedaling efficiently again.
They also use large-area ventilation holes to enhance breathability and comfort without compromising safety.
An anti-slip fabric inside is employed to prevent the feet from slipping and falling when pedaling. It also features a thickened and reinforced heel cup for maximum protection.
Besides that, the sole of these shoes is made of special Thermoplastic Elastomers, which are more durable than standard plastic or rubber. 
Therefore, it can be used for cycling training, touring, racing, daily cycling rides, and other occasions.
The Santic Cycling Shoes are optimized for use with any pedals and cleats, reducing the chances of having a pedal malfunction; this makes it an excellent addition to your current cycling shoes.
It also features a three-hole Calta design road lock for a professional riding experience.
The nylon quick-buckle adjustment clip provides a tight and secure fit that is easy to secure on the go. It also has a handy magic bandage for a solid and secure fit.
For the cost, these shoes are great; the design is lightweight, and it's no problem for most people to get a snug fit. 
However, some users have mentioned that the straps are difficult to tighten and adjust.
Tommaso Strada Cycling Shoe
The perfect balance between fashion and performance, these cycling shoes are one of the best buys that you can get under $100.
The Tommaso Strada Cycling Shoe makes a beautiful complement to any cycling outfit with its impeccable fit and sleek aesthetics.
You cannot go wrong with this cycling shoe. It is designed to deliver the best performance and value possible. It's an excellent price for a fantastic shoe and performs competitively with shoes two times its price.
The uppers are constructed using synthetic leather that is durable and comfortable; it is also combined with breathable mesh inserts for enhanced breathability to keep your feet cool and dry during long rides.
The ultra-stiff fiberglass outsole is designed to help stabilize your foot through each pedal revolution. 
In addition, the anatomic construction supports the natural positioning of your foot and helps control your cycling position.
The shoe's ergonomic three-strap design holds your foot securely in place while pedaling, no matter how rough the terrain gets.
This is an excellent shoe for all cyclists with high visibility reflective highlights on the rear for added safety on those early morning commutes, late-night riding, or low light conditions.
The Strada Cycling Shoe is an excellent choice for cycling, touring, and commuting. 
The SPD-compatible sole plate can also be used with your preferred pedal setup and fit a two-hole and a three-hole cleat.
Several users have pointed out how slippery the sole is and does not grip well on slippery surfaces. 
Because of this, these shoes would be a suitable option for people not riding or walking on slippery surfaces.
R Roydear Bike Shoes
The R Roydear Bike shoes provide comfort, style, and quality at an affordable price, giving you the best value suitable for both men and women cyclists.
These cycling shoes are one of the best alternatives to get under $100.
They are made of breathable mesh, which means that your feet can breathe and stay cool all the time. They can also be washed very quickly and keep their original shape after doing so.
It's also crafted with wear-resistant nylon soles, which help cool your feet with ease and hug your foot comfortably for all-day riding. 
In addition, it's pretty breathable, which is so lovely, especially when you're pedaling hard in the hot weather.
The unique sole design is based on an ergonomically molded footbed with good performance and cushion and is light and breathable. 
Additionally, the smooth cuff is designed to take care of your ankles and prevent chafing.
These low-profile cycling shoes allow you to easily hop on and off your bike. The adjustable closure system prevents any unnecessary pressure from the pedals and ensures a secure fit without any restrictions.
The only thing is that this model is not the most durable. It lacks durability and support all-in-all. 
Nevertheless, it's an excellent product for those cyclists who prefer minimalism and comfort above anything else and are a perfect addition to our list of 'Best Cycling Shoes Under $100'.
What to Look for When Buying Cycling Shoes
Material
Even if you are looking for the best cycling shoes under $100, it's essential to look for quality materials and functionality.
You need shoes that will last and perform well over long distances; you also want to ensure that they're lightweight and breathable to provide optimal comfort.
A good pair of cycling shoes can make you pedal faster and more efficiently. To achieve this, look for cycling shoes made of lightweight materials.
Generally, the more lightweight your cycling shoes are, the better. However, it comes with a cost since this is attained through various expensive materials and advanced technologies.
It is a worthy investment if you can splurge for it, especially if you ride competitively and professionally. 
Otherwise, if you are starting or you ride casually, you can opt for other shoes made of lightweight materials instead.
Look for shoes made of synthetic leather or other artificial fibers explicitly designed to perform similar to the real thing; this will give you a neck-on-neck performance at a fraction of its price.
Another is to ensure your shoes are breathable enough to keep your feet cool dry.
Choose something that has breathable uppers, perforated tops, mesh liners, or a combination of these. 
This will keep you comfortable when riding during the hot summer months or in an extended period enabling you to ride harder and longer.
Pay attention to the material of the soles of your shoes as well. Commonly, they are made of fiberglass, carbon composite, Nylon, or other sturdy materials.
Rigid or stiff soles enable you to deliver powerful pedaling and protect feet from excessive pressure. 
It allows you to transfer maximum energy from your foot to your pedal and prevents unnecessary foot flex for more efficient and powerful pedaling.
However, stiff soles can cause discomfort if you're frequently walking, stopping, and hopping in and out of your bike.
In this case, a more flexible outsole is more suitable for you. In addition, they are much more comfortable to walk with perfect for casual riding.
Fit and Compatibility
Cycling shoes are generally engineered to fit just a bit snugger than your regular sneakers. 
This provides a solid base for your pedaling, so your foot shouldn't be able to slide forward or backward or side-to-side.
The toe area should be wide enough so that your toes can move and don't get stuck in the front of the shoe, causing discomfort.
The heel should fit snugly without lifting, and the shoe should hold your foot in place without slipping forward or back.
Ensure the closure system is efficient and durable enough to give you a secure and customized fit.
Finally, no matter what shoes you go for, ensure that your boots are compatible with your pedals. 
Check the appropriate drilling of the shoes and ensure that they match your cleat or pedal system.
A proper cycling shoe is essential for maximum pedaling efficiency. Pedals, clips, and cleats should work together to allow you to power through each movement.
Final Words
The right cycling shoes can make all the difference between feeling like a fitness fiend and putting a crimp in your bank account.
Choosing the right cycling shoes can be tricky. There are many different considerations to keep in mind when buying cycling shoes.
Purchasing the right pair of cycling shoes should not be difficult. I hope this article has made it easy for you to get a pair that suits your needs and riding style.